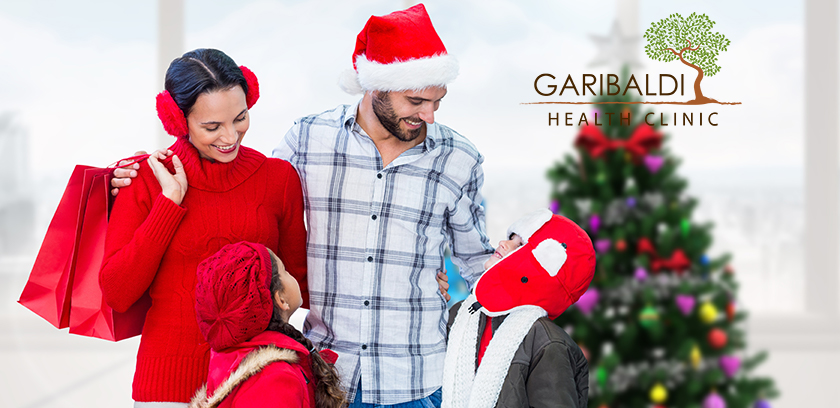 ….getting through the busy Holiday Season …..
Let's face it – this is a busy time of year. We have a lot going on:  social engagements, Christmas shopping, kids' Christmas concerts, decorating our festive houses, and visiting Santa. We are also busy wrapping gifts, writing cards, preparing food for our upcoming guests, and wrapping up work so we can enjoy some much-deserved time off over the holidays. Although it is supposed to be a Season where we enjoy spending time with loved ones, it can be overwhelming and stressful. It can also be a very difficult time of the year for many as we reflect back on the loss of loved ones, and as we try our best to get through the Holiday Season. So how can we travel through December while feeling happy, healthy, and less stressed??? Below are just a few tips to help you cope through the Holidays.
Create a checklist to keep you organized through the month of December. There is a lot going on, and it can seem muddled in our heads. If we can write it down, and get it out of our minds, it can seem more manageable.
Try to do one thing per day, even just something small, to prepare for Christmas. It could be writing one Christmas card or wrapping a gift.
Take some time for yourself each day. Try to keep your exercise routine going throughout the month – it is so important not only for your physical health, but for mental and emotional clarity as well.
Incorporate some deep breathing exercises and/or meditation to keep you grounded and focused.
Don't forget to sleep! When it gets busy, we often let our sleep hygiene slip, but in reality it is more important than ever that we get proper sleep. When we lose sleep, our immune system weakens and we are also less able to cope.
Eat a balanced diet. It is natural that we are probably going to indulge more this time of year in rich foods and goodies. However, if our base-diet is still generally 'clean', we will be much better off in the long run. Don't forget to eat a balanced diet full of protein, 'good' fats, veggies, and fruits to allow us to stay healthy during the Season.
Keep hydrated. With being so busy, it is often easy to forget to drink water. If you prefer a warmer drink, try including some herbal teas – they will contribute to your total daily intake of water.
Supplement with Vitamins B, C, and D, omega 3s, and probiotics to strengthen your immunity and nourish your stress glands.
Diffuse some nourishing, and stress-relieving essential oils into your environment. Try lavender, peppermint, and frankincense. Your room will smell lovely, and you will feel calmer!
Try to keep a routine as much as possible – your body will thank you for this, and keep you healthy. Try to keep your sleep, meals, and exercise on the same regular routine throughout the month.
Don't overschedule – limit what you say 'yes' to, and don't be afraid to say 'no'! Ask for help if you are feeling overwhelmed.
Most importantly, don't forget to have fun! Sometimes we get caught up in the hustle and bustle, that we forget what the Holidays are all about – spending quality time with friends and family. Enjoy this time together!
Cheers and many good wishes for a lovely Christmas and Holiday Season!