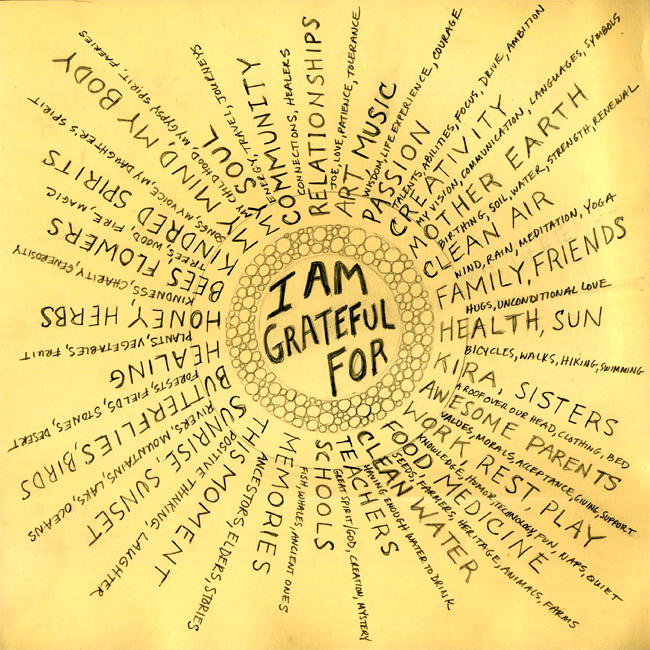 In our society, as a whole, we tend to always look at what we don't have in our lives, rather than what we do have. We often look at the glass half empty, rather than half full. And we focus often on the future – our dreams and inspirations of where we want to get to, instead of putting our energy into the present. If we actually directed positive thoughts to what we are grateful for today, how would that affect our overall health and well-being?
It has been shown that simply being thankful in our lives, can improve our physical, mental and emotional health – from improved sleep, to enhanced immunity, and lowered stress levels. It can also reduce our anxiety, improve our vitality, and allow us to feel empowered. Being grateful for our life and the world we live in, opens our hearts and expands our consciousness. We can feel appreciative of beauty, art, nature, or of someone, and this can lead to greater contentment and can help us to nourish ourselves and our relationships.
So how can we practice gratitude in our daily lives?
Start a gratitude journal – write 3 to 5 things that you are grateful for every day. You don't have to think deeply or for too long. Write down the things that pop right into your head without contemplation. You can be grateful for your health. For a good sleep. For your morning cup of java. The list is endless, if you choose to be open to it. This can be a routine way you start or end your day, and can be something that you look forward to as it can help us navigate through challenging times, and allow us to bring hope to our lives.
Gratitude at dinner – express moments of gratitude around the family dinner table, or choose a topic that you each provide your own thoughts of what you may be thankful for related to that idea.
Gratitude pictures – take photos of things or people that you are grateful for as you go through your day.
Incorporate a daily blessing into your yoga or meditation practice – start the practice by dedicating it to someone or something in your life, whether they are living or have moved on.
Gratitude letter – write a letter to someone in your life that you are thankful for. This will bring warmness to your own heart, but will also bring joy and a sense of well-being to the recipient of your letter.
How does gratitude improve our overall health?
Reduces depression and anxiety – with gratitude, many of our positive feel-good brain chemicals are enhanced which shifts us from negativity and reactivity to optimism, compassion, and serenity. We can focus on what is 'right' with the world, rather than what is 'wrong' with it – a subtle but powerful shift of the mind.
Improves sleep – it can be easier to fall asleep when we bring to mind positive things that happened during our day. It will also allow us to sleep deeper and longer, and enjoy better dreams.
Enhances support and collaboration – people who have a regular practice of gratitude, tend to be more open, friendly and appreciative of their friends, family and community at large. Friendships grow stronger and social support becomes deeper. This has a huge impact on our overall mental and emotional well-being.
Fosters resilience and balance – when we are optimistic and grateful, we become more resilient to what life presents us with, and we can better adapt. Positive, rather than negative expectations, trains our brain to notice the good things in our lives and removes our negativity, hence creating a more balanced outlook of the world.
By implementing a daily ritual of being mindful of what we are grateful for takes only a small amount of time, but is something that can be profound. Practicing gratitude – what do you have to lose? You only have abundance to gain…..