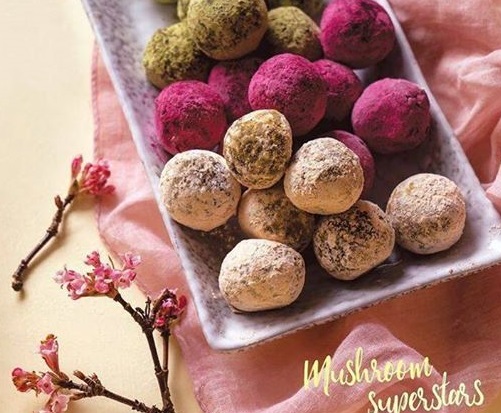 Below we will look closer at four different mushrooms that are used traditionally in medicine for a variety of health concerns. They share similar characteristics such as being nutrient-dense, immune-modulating, and supportive to the stress response. They also can help to reduce inflammation, enhance energy, protect the liver, treat/ prevent cancer, as well as having many other amazing properties. We will also include a yummy recipe which includes a mushroom extract that will enhance your physical and mental well-being! Let the magic begin!
Chaga acts like a parasite on birch and other trees, and is highly nutrient-dense. This mushroom is concentrated with a variety of minerals, enzymes, B vitamins, antioxidants, and has many other beneficial constituents (including polysaccharides, betulinic acid, and polyphenols). Specifically, it has anti-cancer and immune-supporting properties.
Cordyceps is used in herbal medicine to support the immune system and as a source of antioxidants. This mushroom has traditionally been used for a variety of concerns including helping to reduce exhaustion/fatigue, for athletic endurance, as well as for liver, kidney, and respiratory protection.
Maitake is known as "hen of the woods" or "king of mushrooms", and is an edible mushroom that has been consumed in Asia for thousands of years. It is used in herbal medicine to support the immune system.
Reishi mushrooms have been used in Japan for over 2000 years. This mushroom has been used in herbal medicine to help increase energy and reduce stress. The reishi mushroom has also been used as a liver tonic as well as to support immune function. Reishi has properties that help support a healthy inflammatory response and exerts antioxidant properties.
Chocolate Mushroom Bliss Balls
From the April edition of Alive magazine
1 cup pitted Medjool dates
½ cup chopped raw cashews
¼ cup dark chocolate chips, melted
3 Tbsp unsweetened cocoa powder
3 Tbsp Chaga mushroom powder (or try another mushroom variety above in powdered form)
2 Tbsp coconut oil, melted.
Bliss Ball Toppings:
Use 1 tsp cornstarch and mix one of the following to add nutrition and colour to these bliss balls:
1 tsp matcha powder or beet powder or blue pea powder. The balls can also be rolled in: cocoa, hemp hearts, chia seeds, ground nuts (almonds, coconut), melted chocolate or chili powder (to add a kick!)
Pulse dates in food processor until they chop up, and then add cashews and pulse until a crumble. Add melted chocolate, cocoa, mushroom powder, and coconut oil, and pulse until becomes a ball.
Line a square pan with parchment paper. Scoop mixture with spoon and roll into smooth balls, and place in a single layer in lined dish. Place in freezer for 30 min or longer to firm. They can be rolled or dusted with colorful toppings to look extra blissful! Store in fridge in covered container.
Enjoy!