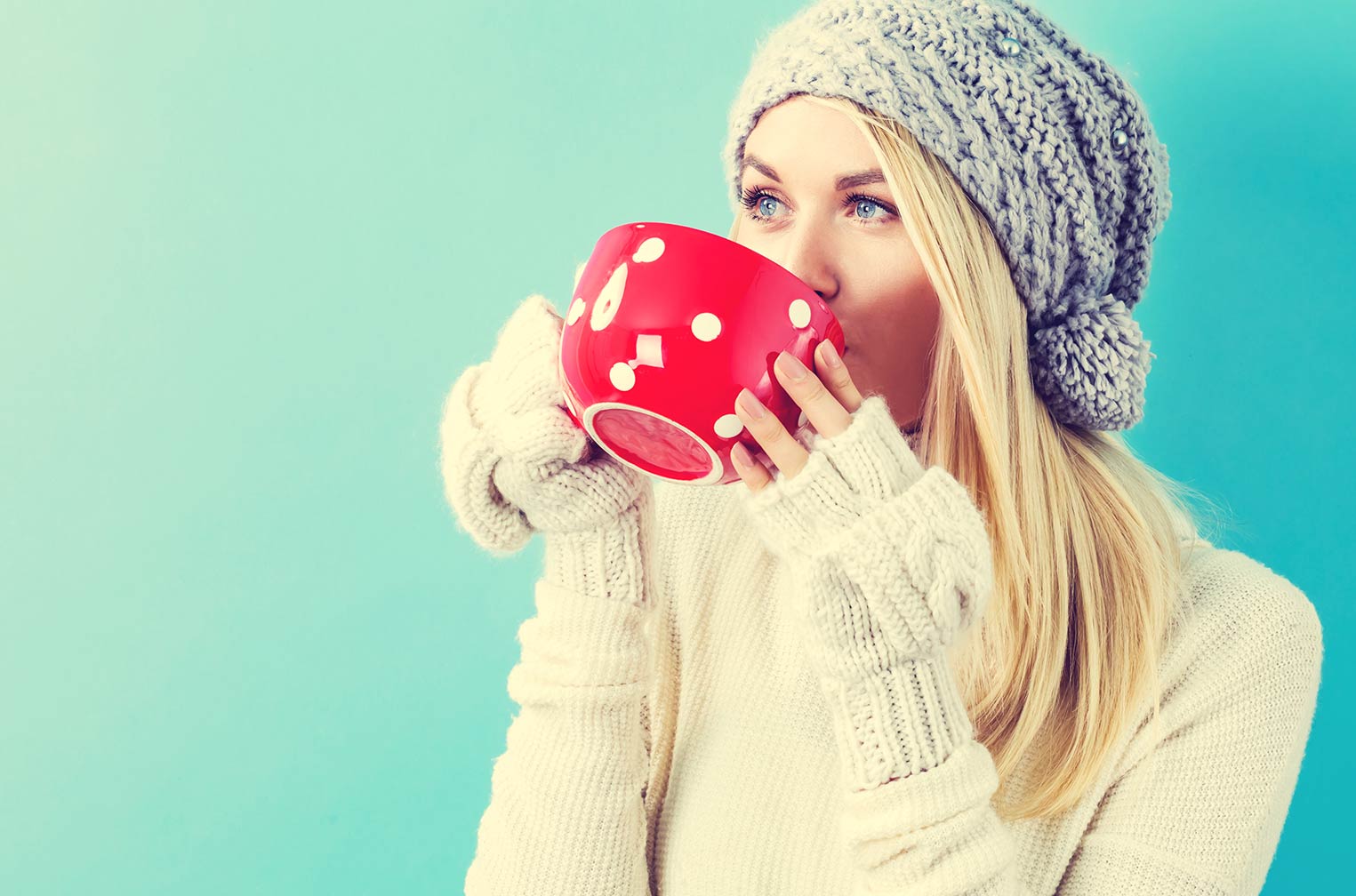 Winter is fast approaching. Snow can be seen on the mountains, the days are getting shorter, and we can see our breath in the mornings as the weather is getting cooler. It is time to pull out those hats, scarves and gloves, and to dress warmly for these cold, winter days.Below are several hot drinks to make that will keep your insides warm and have health-promoting effects.
Enjoy and stay warm!
Golden Milk
A warm Ayurvedic drink made with turmeric powder. Turmeric is used in the treatment of many chronic diseases including cancer, diabetes, and gastrointestinal disturbances. It is also great for reducing inflammation and increasing circulation in the body. If you add a small pinch of freshly ground black pepper as well as coconut oil to the turmeric, the absorption is enhanced greatly.
1 Tbsp coconut oil
1 tsp turmeric powder
2 cups coconut or almond milk
2 Tbsp maple syrup
In a small saucepan, melt coconut oil over medium heat. Add turmeric powder and stir gently. Slowly add milk and stir to combine. Let simmer for 5-10 minutes, add maple syrup and mix. Enjoy!
Creamy Matcha
Matcha is made from powdered green tea leaves, and is a great source of antioxidants – making it very beneficial in the treatment of cancer, heart disease, and diabetes. It can also help with increasing focus and concentration.
1 cup water
1-2 tsp matcha powder
1 cup milk, heated – coconut, almond, soy or regular milk
Small amount of honey, to taste
In a small saucepan, bring water to a boil, then remove from heat and add matcha powder – whisk to combine. Slowly add hot milk and stir. Add honey to sweeten.
Apple Cider
This warm, nourishing beverage is great on a cold wintery day, as well as for kids. Ginger and cardamom improve digestion as well as increase circulation. Cinnamon has been known to regulate blood sugar levels and therefore helpful in the treatment of diabetes. Real apple juice has many vitamins and minerals in it to promote optimal health and reduce cardiovascular disease.
2 cups real apple juice (no added sugar, and not from concentrate; often found in glass jars, and it is a darker, richer colour)
½ tsp ground ginger
¼ tsp each of cinnamon and cardamom
Combine all ingredients in a small saucepan and stir to combine. Bring to a simmer and then remove from heat and enjoy!
Macaccino
A delicious superfood, energizing drink that can be a great coffee substitute!  Maca root is traditionally from the Amazon region and has been used by the Incas to promote overall well-being. It can be used to increase energy, balance hormones, enhance memory, and support the immune system. Due to its stamina-building properties, maca is also known as 'Peruvian Ginseng'.
2 cups whole milk or an alternative such as coconut, almond, soy or rice milk
2 Tbsp raw cocoa powder
1 tsp maca powder
2 Tbsp maple syrup.
Warm milk over medium heat in a small saucepan. Add cocoa powder, maca and maple syrup, and whisk to combine. Continue heating until desired temperature of drink is reached.
Here's to keeping warm, healthy, and balanced this Winter!